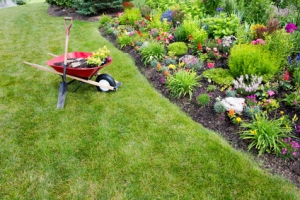 Summers can be really fun. They can also be incredibly busy if you have a family that is looking forward to a ton of summer fun. With a loaded schedule, how are you going to have time to care of your yard? If you've put a lot of effort into your landscaping over the years, it would be a shame for all that to go to waste. To prevent that from happening, the best choice would be to hire a professional Sterling Heights landscaping company. Their services include landscape maintenance. That way, your yard is taken care of even if you don't seem to have the time.
Here are a few extra reasons why you should take the time to hire a professional Sterling Heights landscaping company.
Adding To Your Already Busy Schedule
Summers can either be chaotic or relaxing. Adding time to attend to your residential landscape may or may not work as the season gets busier. When you don't have the time to work on your yard or you'd rather not work on your landscaping while in a rush, hire a professional Sterling Heights landscape company. A landscape maintenance service will be dedicated to your yard. They'll take their time to check on the greenness of your lawn, the health of your garden, and the evenness of your shrubs. The results of that focus will be worth seeing after a busy summer day.
Your Landscape Will Be Taken Care Of The Right Way
Improving a landscape for your residence takes special time and effort. It's not an easy task, but it's not impossible to do. That is, unless your summers are busy or you don't have the right resources to take care of your yard correctly. This is another major reason you should hire a professional Sterling Heights landscaping expert. Landscape maintenance keeps your yard looking good because their attendance to your yard stays consistent. Doing a mediocre job at taking care of your yard may lead to a decrease in its health. Having a professional landscaper take care of your yard means you want the best for your home.
Summer Landscaping Is Different Than The Other Seasons
During the year, every season causes natural changes. Of course, your yard also goes through these changes. You'll want to know how to take care of it as each season passes by. During the summer, the heat spikes, the humidity increases, and it can be much harder to do outdoor work. When you confront the work that comes with summer landscaping, you need to be practical. Do you have the time during the summer? Do you know how to take care of your landscape during the warmer weather? A professional has the time and the experience to handle the summer heat. They'll know what to do to keep your lawn hydrated and strong enough to handle the seasons.
Located in Shelby Township, Sinacori Landscaping services residences and businesses throughout Metro Detroit.
Summertime brings work and fun, but it's hard to keep those balanced. If you want a yard that looks beautiful without breaking your back, why not hire a professional Sterling Heights landscaping company? Contact Sinacori Landscaping today.