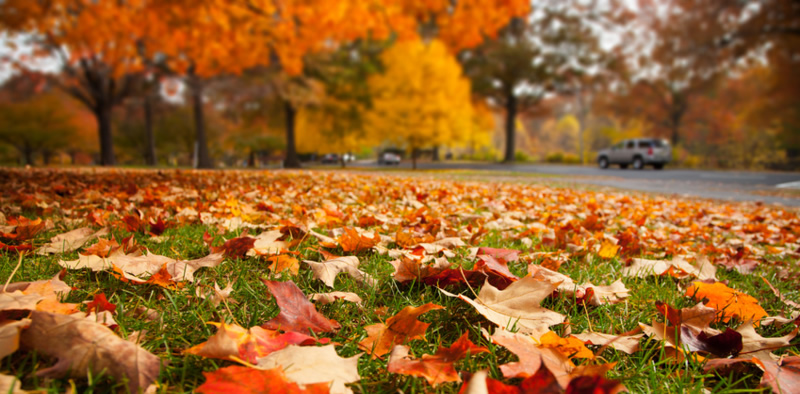 Fall is a beautiful time of year. With summer coming to an end, it's time for Michigan homeowners to take in the cool fall air and watch the colors on the trees change. This time of year also gets busy for parents who need to take their kids to school and then later go to work. When you have other priorities to take care of, taking care of your home's landscaping often ends up on the back burner. If you want to prevent that from happening this year, hiring a Lake Orion landscaping company can help you make the beautiful autumn ambiance a part of your home's landscape.
1. Turn Beautiful Fallen Leaves into a Helpful Landscaping Tool
Raking leaves is a time-consuming job. Although fallen leaves can add a new look to your yard, too many of them can cause clutter. On the other hand, fallen leaves can actually help improve the health of your yard. Rather than neglecting an opportunity to boost the quality of your various plants, you can hire a professional landscaping company to take care of those leaves and put them to good use.
Dead leaves bring life to a lawn with their nutrients and can act as wonderful mulch. Mulch is essential during this time of year and helps protect grass when winter hits. If you want your yard protected and healthy, hire a professional to take care of this now so you don't forget.
2. Make Sure Your Lawn Is Cut and Watered Correctly
During the fall, the temperature gets cooler and your lawn will notice that change. When this happens, your lawn will be growing at a different rate and you won't want to cut it as frequently as you did in the summer. If you're someone that doesn't mow the lawn often letting your grass grow wildly isn't a good decision either.
If your schedule is getting busier and you can't set aside time to handle the lawn, then hiring a professional landscaper can help you out a ton. With their landscape maintenance services, you can have your lawn cut at an appropriate time and frequency. That way, your grass can continue to grow wonderfully throughout the year. They can also talk to you about how much your lawn should be watered so every bit of grass stays hydrated.
3. Add Some New Plants That Complement The Fall Weather
In addition to all the work that must be done, you may want to add a little something new to your landscaping design. Fall offers a variety of colors and shades this time of year and that can be inspiring. If you want to look into adding a new and beautiful design to your home's landscape, the expertise of a professional landscaping company can help.
There are certain plants and flowers that can handle Michigan's cooler months. With their expertise, your landscaper can recommend plants that will showcase the beauty of your home.
Looking for a Lake Orion Landscaping Company?
If you're a Michigan homeowner, let Sinacori Landscaping make your property even more beautiful. Contact us today and ask us about our fall landscaping services.
Sinacori is located in Shelby Twp, Michigan and provides fall landscaping services in Lake Orion and throughout Metro Detroit.
Call Sinacori Landscaping: 248-651-5400