Designing Your Michigan Outdoor Space: 5 Foundations To Consider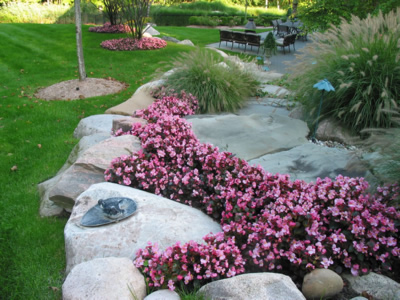 A beautiful and functional landscaping design is critical to your personal enjoyment as well as the value of your property. Many of the beautiful homes you see on covers of magazines have one thing in common: the combination of landscaping with hardscaping, and plenty of initial planning. Your design planning and work with a professional landscaping service will determine the outcome, quality and functionality of your outdoor space.
Here are some ideas, suggestions and foundations to consider in preparation for your dream outdoor space:
1. Begin By Determining The Structure Of Your Property
This pre-planning consists of determining property lines, nearby roads, driveways, sidewalks and any fencing. Also take into account any buildings, sheds or additions on your home that may interfere with your dream outdoor space.
2. Map Out Any Special Additions
Special features can include a custom-made pool, hardscaping patios, walking paths, water features, and others. These elements require extra planning before the other, smaller features in consideration can begin. Something as large and expensive as a custom pool should be given plenty of thought and designing to make for the most functional and beautiful outcome. Decide upon where the custom pool should go, the desired shape and size of it, and whether there are any terrain or sloping issues you may have to work around.
Also, think about the more practical elements of your landscaping such as the irrigation system. An automated system will require the digging up of areas in your yard to lay down the pipes and set the various watering spouts. If you choose to do this step after the implementation of other features, you may destroy them and have to start over.
Next, Consider These Design Elements and Features:
3. Elevation Re-structuring.
The re-structuring of your yard's elevation will need to be considered if you wish to add varying levels of flower beds, as well as a custom pool.
4.Hardscaping
Hardscaping is the use of hard elements like stone, brick, concrete, and wood to create an outdoor structure. Some of these options include a fire pit, fire place, retaining wall, patio, walkway, water fountain, custom pool and more. Hardscaping can also include the re-design of your driveway and property fence. All of these elements take up a decent amount of square footage and should be considered before any landscaping begins.
5. Landscaping
Landscaping is the implementation of plant life including flowers, shrubs and trees. When combined with various hardscaping elements, it can make for the most elegant and efficient outdoor space. You should consider where flower beds should be created, whether you want any hedging along a pathway, and whether you would like any trees. Create your landscaping after hardscaping to avoid any disruption to your plant life.
Designing Your Michigan Outdoor Space: 5 Foundations To Consider
Anyone can have an outdoor space that looks worthy of a magazine front cover. With some pre-planning, considering and design, you can create the outdoor space you've always dreamed of with the help from a landscaping expert.
For help designing your Michigan outdoor space, contact Sinacori Landscaping at: 248-651-5400