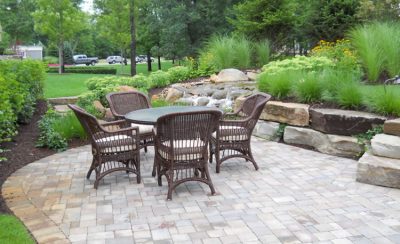 There are three services every professional landscaping company in southeast Michigan should have. They should be able to provide expert advice on landscape design, offer exceptional landscaping installation, and show consistency with their maintenance services. That's the golden trinity of a Farmington landscaping company.
A great landscaping company offers these services right off the bat and makes it easy for you to take advantage of them. If they do not, then that might be a sign to look elsewhere for someone who can take care of your property. Search for these qualities when you're hoping to find a dependable landscaping company.
1. Landscape Design
Landscape design is about combining strategy with flexibility and adaptability. A Farmington landscaping company should be able to work on residential and commercial properties.
For residential properties, you want a design that looks cozy and welcoming. For commercial properties, a design that projects a welcoming atmosphere and professionalism will get the desired result.
Professional landscapers also draw out a plan that is clear to their clients. Like an interior designer, they should consider your lifestyle and do their best to match the landscaping design with your personality and your household's favorite activities.
No matter what ideas you have in your head, your Farmington landscaping company should have function and aesthetic as their end goal.
2. Landscape Installation
Actually installing the landscape features, whether it be a few plants or a row of shrubs, can be a daunting task. But to your professional landscaping company, it shouldn't be intimidating at all. It should be second nature.
Landscaping can be seen as a trained art. Farmington landscapers are outdoor designers that shouldn't be afraid to get their hands dirty. They should also be disciplined enough to pursue the placement of living features at a level near perfection.
However, it's not just about putting everything in the right place. It's also about keeping the client's ideas in mind and informing them of the progress of the design so far.
An installation for a residential property will have a different goal compared to that of a commercial property. It's up to the landscaper to meet those goals, no matter the client.
3. Landscape Maintenance
The biggest reason people look to hire a landscaping company is time. Many have come to realize that daily watering and mowing the lawn takes a lot out of their busy schedules.
Because landscaping maintenance requires more than just mowing and watering, it will definitely take a lot of time. Having professionals help with the long list of landscaping maintenance duties is the better choice.
The Farmington landscaping company you hire should know all about fertilizers, mulching, trimming shrubs, sampling soil, and more. They'll know how to take care of your property and do it faster than you ever could. After all, their dedication and expertise surpasses just having general knowledge.
They have the right equipment and tools along with a well-trained team that sets the standard high when they complete their work.
Looking for a Reliable Farmington Landscaping Company?
If you need to hire a reputable Farmington landscaping company, all the above qualities can be found with Sinacori Landscaping. They offer design, installation, and maintenance services to southeast Michigan residents. Contact them today.
Call Sinacori Landscaping: 248-651-5400
Need to find a landscaping company that services Clawson, Michigan? Be sure to read our article: The Dos and Don'ts of Hiring a Clawson Landscaping Company.