Oakland County Landscaper Gives Fall Landscape Cleanup Tips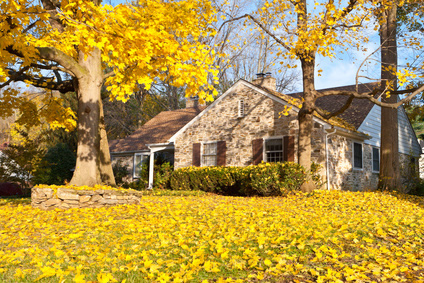 Although the colors of the autumn season are beautiful, fallen leaves can make your yard less-than attractive if left alone. Yes, fall cleanup is here and although many homeowners dread this time, the purpose of this cleanup is to prepare your yard for winter and create beautiful landscaping for the next season.
The quality of your spring and summer garden is basically the result of the attention you give in the fall. Don't let all your hard work creating a beautiful landscaping be wasted and follow the tips below to effectively prepare your yard for the first snow fall:
1. Remove All Dead Leaves And Debris From Your Yard
Dead and decaying debris, such as colorful leaves and sticks, create a breeding ground for insects and disease for your plants. If you don't remove the fallen leaves and twigs from on top and around your flowers and shrubs, you may be significantly decreasing their chance for returning healthy the following season, or coming back at all. Bacteria grows in decaying matter and also acts as food for destructive insects that can bring harm to your plants.
2. Fertilize Your Lawn And Plants
Autumn is the perfect time to fertilize your plants and grass, and give it potent food to last them through the dormant winter. Typically, the last time fertilization happens is spring, after winter has subsided, and now is the time to replenish your plant life with nutrients to grow healthy and colorful next year. You can look for plant food that includes weed control to kill off any weeds before winter has arrived, reducing the amount of decaying matter laying on your lawn. Fall fertilization is one of the best ways you can ensure healthy flowers and shrubs that continue to return even fuller and more vibrant than before.
3. Winterize Your Irrigation System
The final step towards preparing your yard for the winter is to switch your irrigation system to "sleep" mode. If you choose to skip over this fall cleanup step, you can potentially cost yourself a lot of money in repairs in case any pipes burst due to the formation of ice and pressure. Before winter arrives, be sure to remove all remaining water in your irrigation to prevent any damage to your watering system. Spend a little extra time preparing this season in order to protect yourself from costly expenses next spring, and allow yourself to spend more on plant life to continue beautifying your landscaping.
Oakland County Landscaper Gives Fall Landscape Cleanup Tips
Each of these fall cleanup steps are vital to the health of your landscaping as well as preventing expensive repair and replacement costs the following spring. If these crucial preparation steps seem daunting, or you simply don't want to kill yourself with the painstakingly hard work, consider hiring an Oakland County Landscaper. Sinacori Landscaping will make sure everything has been taken care of to ensure your plant life returns healthy, lush and colorful next year.