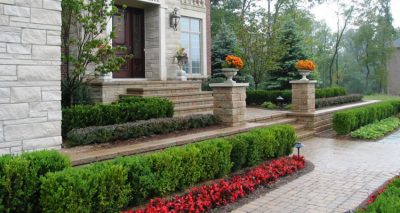 How many times have you had high expectations for your yard and ended up being disappointed? The correct answer is, "too many times." When it comes to landscaping, this problem can often be traced back to a lack of experience. That's where some expert advice from a Royal Oak landscaper can make a big difference.
If you want a better understanding of the needs of your yard, talk to a professional landscaping company for advice. There are plenty of landscaping tasks they can attend to for your benefit. Here are three things every homeowner must do in the spring and summer for their yard.
1. Pay Attention When You're Cutting and Watering
As a Royal Oak homeowner, you shouldn't be mowing your lawn recklessly. The grass is alive so it's going to react to its environment in different ways. When it's colder, it will grow slower; when it's warmer, it will grow faster. Keep that in mind so that you only mow when it's necessary.
Keeping the lawn hydrated is another common task to be mindful of. Overwatering makes the grass sick and under watering makes it frail. The moisture and nutrients in the soil will also affect the way your grass grows.
The factors of grass growth seem endless and it can be a real chore to keep track of it all. Luckily, a Royal Oak landscaping company will know exactly how to care for your grass properly.
2. Find the Right Fertilizer for Your Yard
There are various types of fertilizers out there. Sometimes that's the reason why homeowners get turned off by the thought of buying fertilizer. They aren't sure which is the right one and which might harm their lawn.
To make sure you get your money's worth and avoid destroying the grass and plants, invest in a professional landscaping company instead. They'll know which types of fertilizers work best for your yard and can provide you with updates on the progress of your yard.
Fertilizers are one of the best tools for healthy landscaping, if used right. Since every yard is different, you need to make sure you use the right type. Let a Royal Oak landscaping company do the searching for you and you can watch your yard come to life before your eyes.
3. Make Sure Everything is Well Hydrated and Protected
In addition to cutting the grass and making sure you have great fertilizer for your yard, you also need to make sure everything is being watered properly. As stated before, overwatering or under watering can do irreversible damage.
You can talk to a professional landscaping company about when and how you should water your plants. This is especially important if you have a sprinkling system or if you need to do it by hand.
Consult with a Royal Oak Landscaper from Sinacori Landscaping
A Royal Oak landscaper will help you make better decisions for your yard to prepare for a flourishing spring and summer. Get in touch with Sinacori Landscaping to make sure your property is ready for the coming seasons. They offer their landscaping services year round throughout Macomb and Oakland County.
Call Sinacori Landscaping: 248-651-5400
Looking for a landscaping company that services Commerce Twp.? Be sure to read our article: Advice from Commerce Twp Landscaping Professionals: How to Create a Beautiful Yard.