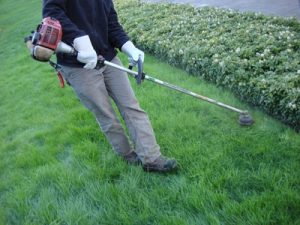 Have you been working on your yard non-stop? Perhaps it's time to take a step back and get some rest. Maintaining the beauty of a landscape at a Michigan home is often rewarding after a long day's work, but it's also time-consuming. If you focus too much on it there will be little room for other activities like spending time with family. Pull yourself away from outdoor work and let a Rochester Hills landscaping service take care of it. That way, you can spend more time on what's truly important.
Additionally, there are other benefits from having a Rochester Hills landscaping service take a look at your yard:
You Can Come Home To A Beautiful Yard
When you give your home the Rochester Hills landscaping touch, you'll definitely notice a difference. Landscaping maintenance services can make sure your lawn is mowed right, plants and gardening are well taken care of, trees and shrubs are pruned, and much more. Whether you're the type that enjoys taking a break or is itching to get back in the yard, you'll appreciate that it's always well kept. Rochester Hills landscaping also offer year-long landscaping services. That can help make sure that you'll never have to worry about the yard work getting done.
Get Advice and Consultation From Rochester Hills landscaping Service
Working on landscaping and knowing how to maintain its beauty takes years of experience. If landscaping and gardening is a hobby you recently picked up, there's a lot to gain from talking to a landscape service. You'll get the chance to discuss proven landscaping strategies that have worked for hundreds of clients. Perhaps this may inspire you to try out new designs for your home. For more complex projects, you now have someone to work with to make sure you achieve results. As a bonus, having a landscape design installed at your home can help increase property value. If you want to enjoy your future, then it's best to do things right during the present.
Rochester Hills Landscaping Service May Notice Things You Don't
Without a trained eye, there may be things about your landscaping that you don't notice. Perhaps there are some hidden weeds or a dead tree or shrub that is affecting other areas of the yard. There may even be an odd imbalance with the current landscaping design. In addition to the advice Rochester Hills landscaping companies can offer, they will also let you know when something that could damage or decrease the health of your yard is present. Once the problem is addressed, the Rochester Hills landscaping company will offer to take care of the problem. This makes your life a whole lot easier.
Give yourself a treat and have the Rochester Hills landscaping service take care of your property. After so many busy days, it's great to go home and be greeted with the positive energy beautiful landscape can provide. If you're from Macomb or Oakland County, the team at Sinacori Landscaping will make sure that happens. Their landscape design, installation and maintenance services are just what you need. Contact them today to know more.