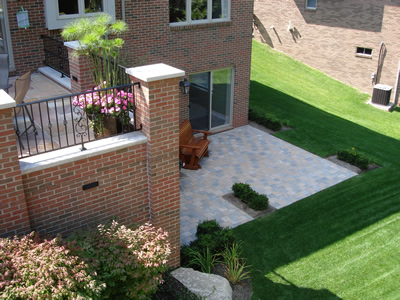 3 Ideas for Your Next Landscaping Project
Have you been brainstorming about changing up the flow of your backyard? It's a good thing to think about this time of year. Summer builds everyone's enthusiasm to spend more time outside and enjoy the sunshine. But sometimes, you get the feeling that the ambiance of your yard could use some improvement. There are certain combinations you can try with your backyard that may fit your mood and style as the different seasons pass. At Sinacori Landscaping, we're happy to offer you these new ideas for landscaping your Clarkston home. And if you need help, we'd be happy to lend a hand.
1. Have A Lot Of Potted Plants? Look Into Decorating or Remodeling The Patio
Do you enjoy going outside and taking a good whiff of fresh air? You can enhance the experience by having a few potted flowers nearby. Potted plants of all sorts can be used to decorate your patio. Sometimes our experience outside doesn't last long when we don't enjoy the look of the patio. You may have purchased beautiful furniture, but if something seems like it's missing, plants can fill that void.
As an Oakland County landscape company, we also provide hardscaping services so we can help change the design or look of your patio and then aid in your decorating your new investment. Keep your options open when it comes to your patio because there are many of them for you to choose from.
2. Have A Garden or Pond? Why Not Try A Sitting Bench or Raised Garden Bed?
Perhaps you're a gardener who is proud of the work you've put into taking care of your flowers and vegetables. If you happen to notice your efforts catch the attention of a few furry critters, it could be time to install a safe way to keep them at bay. Raising a garden bed has many benefits. You give the chance to let the plants sink their roots deeper into the ground, protect them while they're flourishing, and even allow a natural irrigation system that keeps the plants hydrated.
If you happen to have a pond, Sinacori landscaping can help you maintain its beauty as well. Add a complementing elements, like a bench or neighboring wall that allows you and visitors to enjoy the pond's presence.
3. Have A Large Elegant Lawn? Consider Installing A Walkway
Different types of walkways will definitely change the flow of your backyard. Walkways can guide you and your visitors through the extravagance of your yard. You can use it to showcase your carpet-like lawn or your planted efforts in the garden bed. This will also encourage visitors not to wander off and step all over the grass. Walkways allow guidance and encourage a stroll outside, thus extending your experience of enjoying the outdoors.
Contact Sinacori for Help with Your Landscape Project in Clarkston
Do you feel like these ideas are exactly what you need to turn your outdoor space into a tranquil area? Contact Sinacori Landscaping today to get started on your Clarkston landscape design project. We are located in Shelby Twp. , Michigan and service Macomb and Oakland County.