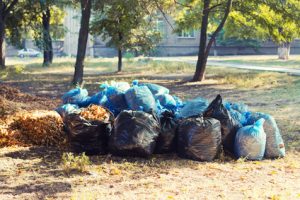 Even though fall is a beautiful time, there can be quite a few chores to take care of. You may not always have the energy or time to do them all. There's no shame in not wanting to deal with those tasks every day. Sometimes life gets busy and your efforts have to go toward other priorities. But that doesn't mean your yard has to be left neglected. If you can't fit these six common tasks into your schedule, perhaps it's time to get some help from a professional Utica landscape company.
Consider contacting a professional Utica landscape company so you can be greeted by a beautiful home at the end of a busy day.
Seeding Your Lawn
Seeding your lawn helps your grass adapt to the change of temperature. Remember, no two lawns are created equal. Your grass may adjust to Michigan temperature differently which is why seeding is important.
Leaf Raking
Although the colors of those autumn leaves are warm and bring a good ambiance, it's better to make sure they're out of the way. Sure, letting the leaves spread rampant can act as fertilizer for the yard. However, if you ignore the leaves for too long, the grass will be smothered and they can breed disease.
Take Care Of Your Garden
Do you end up losing your enthusiasm for gardening when it gets cold and windy? You still need to take care of your garden bed because it can't be left alone for as long as the leaves. If maintaining your garden's health is a priority, landscape maintenance services are perfect for this situation.
Keep An Eye On Weeds
If fall makes you feel like being inside, weeds will rear their ugly heads quite quickly and take over your yard. This is a risk you shouldn't take if you feel like you won't have time to attend to this task. When weeds take over, it takes more time to uproot them. If not taken care of, they'll add even more inconveniences to your schedule.
Mow Your Lawn To Keep Grass Healthy
The moisture in the Michigan air will still encourage the grass to grow. You'll still have to take the time to mow your lawn and make sure it's cut at the right length. A certain factor to consider when it comes to mowing your lawn is knowing what your grass's height should be to stay healthy. If you aren't sure what that is, the professional Utica landscape company can help you find the answer.
Keep An Eye On Your Shrubs
If you happen to have a few small shrubs around your yard, it's good to take the time to protect them. Some shrubs are accustomed to winter's chill, but some may need shelter, covering, and a decent amount of watering in the fall.
Landscaping can be so much fun during the warmer part of the year, but it's still a year-long job. If you ever have trouble with landscaping your yard, contact Sinacori Landscaping. They offer their professional Utica landscape company services throughout Macomb and Oakland County.