How a Landscaper Can Help You Make a Good Impression for Thanksgiving Day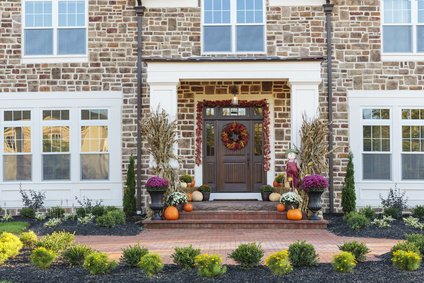 Are you expecting some in-laws from out of town coming to visit for the holidays? You've probably already started planning and preparing to impress by organizing the décor and creating a menu of mouth-watering foods. Sprucing up your house is also a good idea so that everyone will be happy and comfortable. One other thing you can do to wow your family is to hire a Birmingham landscaper.
The weather may be nice enough to enjoy the outdoors with your family and a great way to set up the ambiance is to have landscaping that complements the beauty of your home. Here are three ways a landscaping company can help you make a good impression before Thanksgiving comes around.
1. Have the Lawn Taken Care of for the Next Couple of Weeks
Many Michigan homeowners feel mowing the lawn is simply a chore. After all, isn't it just walking back and forth with a lawn mower until the grass looks even?
Actually, professional landscapers prefer not to mow lawns the same way because it can damage the grass. If you cut the grass too short or not short enough during this time of year it can have an effect on the health of the lawn. It may not get the right hydration, which can then lead to your grass dying faster in the winter.
A Birmingham landscaper can take care of this for you so your bright, green, well-cut lawn will stand out the moment your in-laws pull in the driveway.
2. Request Some New Landscaping Installations
If you feel like your yard is a bit lackluster and is bound to be judged by your in-laws, why not have a new flower bed or some shrubs installed? Leave it to a professional landscaper to install some new landscaping features. It can add so much to your home's exterior.
A new flower bed can brighten up your home and increase pollination. Some additional shrubs or a new tree will boost the oxygen in your area and may even provide some fruit for harvesting. You can do the same with a new vegetable garden.
The benefits are plentiful when it comes to adding new landscaping features. Contact your professional landscaping company if you have some ideas.
3. Add Natural Décor to Your Hardscaping
If your family does end up eating outside or spending some time on the porch for a family game, that outdoor space has to look good. Add some potted plants or ask your professional landscaping company to plant some shrubs. It can border the porch or your fence and add to the experience.
An outdoor environment that blends a natural aesthetic guarantees comfort for all your guests. Perhaps when you have these landscaping features installed, there will be less judgment and more familial bonding.
Contact a Birmingham Landscaper for More Information
Looking for a Birmingham landscaper to help prepare your home for Thanksgiving? Contact Sinacori Landscaping today to see how we can help you.
Call: 248-651-5400