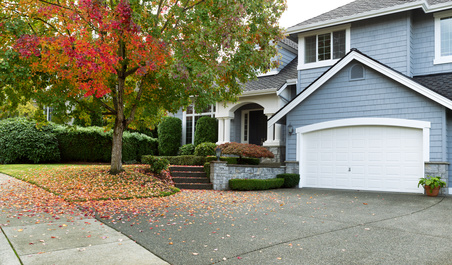 The heat is still high in Michigan this month. But that doesn't stop some gardeners and enthusiastic landscapers from preparing themselves for the fall. Soon the days will get colder, vegetables will be ready for harvest, and some plants will be growing slower as they notice the cold coming in. If you aren't sure how to take care of your yard as the months get cooler, you should discuss your worries with a professional landscaping company. For now, here are some tips you can try to help you prepare for taking care of your landscaping for the fall.
1.      Mulch is a Must for Fall Landscape Maintenance
If you've ever been to a store, there are plenty of mulches that are available to try.  With all the choices available, you may not know which one is best for your yard or garden. Mulch is a must because it allows all the roots of your flowers, plants, and the grass in your lawn to be protected. It also helps the moisture stay in the soil when winter comes along.
You may have heard that it is also okay to mulch in the spring, but it's more beneficial for your plants in the fall. Each yard is different, so how do you know which mulch will bring the best benefits to your yard? Your safest bet is to contact a professional landscaping company. They'll offer their expertise and even mulch your yard for you so everything will be properly protected.
2.      Wrap and Protect Plants that are Precious to You
Snowfall can be heavy in Michigan and some of your precious plants won't be able to handle that sort of cold and weight. The best thing to do for shrubs, plants, and flowers that you know won't handle freezing throughout the year is to wrap them. Plants can also be hidden in buckets or plastic pots, but it's best to have a landscaping expert take a look to make sure they're protected. Look for a professional landscaping company that understands the intensity of a southeast Michigan winter. They can also protect any vulnerable trees that can't handle a heavy winter.
3.      Be Rid of the Dead and Dying to Protect the Living
We run into a few wilting plants that didn't last throughout the year. When fall comes around, it's definitely time to look through your yard and make sure all the plants that are dead or dying are removed. This is important to do so that your other plants can stay healthy. They're going to need their strength to last through the winter.
Removing what is dead is different from pruning, which should be saved for the spring. Check your garden bed and potted plants to see what needs to be removed. If you have a variety of plants or a vast garden bed, checking what will and won't survive the winter can be time-consuming. You can always hire a professional landscaping company to handle this chore for you.
Need Help With Your Bloomfield Hills Fall Clean Up?
Fall can also be a busy time and it can be difficult to squeeze some yard work in. If you need some help with your fall clean up in Bloomfield Hills, contact Sinacori Landscaping to allow a professional landscaper to prepare your beautiful lawn for winter's chill. 
Sinacori is a Metro Detroit landscaping company headquartered in Shelby Township. Contact us today by calling:248-651-5400