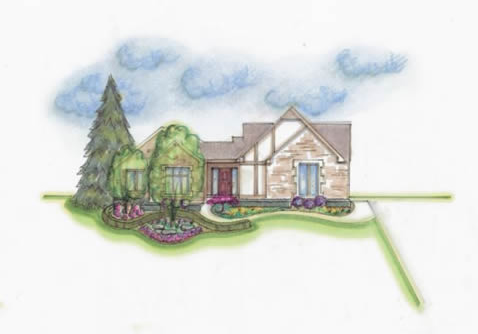 In Michigan, we have plenty of flourishing trees and moisture in the air to keep those trees and other greenery alive. The natural aspect of this area is the main reason why some of us are so enthusiastic towards landscaping our homes. However, we also like to add a cozy feel to our outdoor space with a patio or a walkway. Have you been thinking about the right way to balance both? Our Rochester Hills landscaping company can help make it possible.
Observe Your Surroundings with an Eye for Design
It's good to have a professional eye take a look at your backyard. They can hear about your plans so you can decide whether it will work with your home or not. Every property is unique, so it requires special care and planning. To increase your plan's probability of becoming a reality, talk to a landscaping expert first. Don't be afraid to express your ideas, but also be open to what they have to say. Eventually, you'll see it all come together and we will be happy to take you to the next step.
Execute the Plan
Whether you're having a new patio remodeled or adding extra greenery to your porch, you will see a positive change in your home. Taking the time to consult with one of our landscaping professionals will ensure your plan is executed.
It's tempting to just take on the task yourself, but this type of work is more than just planting and watering. A lot of heavy labor is required in addition to consistent maintenance. At Sinacori Landscaping we have a team of experts ready to work on your landscape design project for you. Not only will we complete the plan, but we also offer landscape maintenance services so it stays that way. Our services will be helpful throughout the year.
Keeping the Balance All Year Round
As the seasons change in Michigan, so will the scenery of your home. Do you want your outdoor living area to remain seasonal? If so, that may call for a change in flowers and shrubbery. A good raking of the golden leaves may also be needed so the lawn can keep its clean cut.
As the year goes by, it's expected that some events will pop up in your life that prevent you from attending to these chores. To keep the balance in your yard, make sure the landscapes are healthy so no wilting or dead plants ruin the look for your hardscapes. Check and see if the hardscapes are secure and prepared for the fall and winter chill. The change in temperature is guaranteed to have an effect on your outdoor living area.
Consult with Our Rochester Hills Landscape Design Team
Long story short, the professional touch will help you have and maintain an excellent yard. Contact our Rochester Hills landscape design team at Sinacori Landscaping today to see what we can do for you.
Sinacori Landscaping is headquartered in Shelby Twp, and provides landscaping services in Oakland County and Macomb County. Call:248-651-5400 for more information.