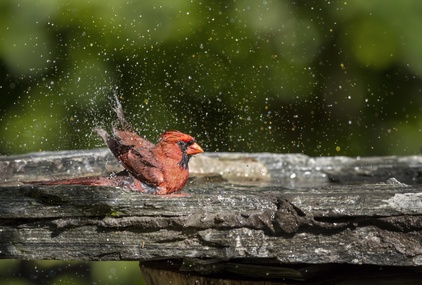 If you're a Michigan homeowner, you may already have an idea of what landscaping and hardscaping is. After all, you come home to it every day. You may even be thinking about improving some things. Even if you're just curious about the whole concept of designing your outdoor area, you need to understand the differences in functionality and purpose of landscaping and hardscaping. Knowing this will help you narrow down what can be done to improve these elements further. Here are the differences between landscaping and hardscaping and how a Madison Heights landscaper can help.
Landscaping – The Art of Designing Flourishing Greenery
Landscaping includes the living things in an outdoor living area. The grass in our yards, the trees that give us shade, and the flowers that brighten our day are all part of the landscape. Since they are living things, they need special attention. And they need this usually on a daily basis. Consistent watering, pruning, and feeding is necessary. Basically, landscaping is where a portion of your property becomes your pet. It's your job to take care of it and the best way to do that is letting a Madison Heights landscaper counsel you and offer their services.
A landscaping company like Sinacori can bring your landscaping to life. There's more to having greenery in your yard than just watering and mowing the lawn. You also have the opportunity to sculpt a plan with your Madison Heights landscaper. Your plan should aim to boost the beauty of your home and give you a space that you love. Often homeowners like to make their plan into a do-it-yourself project. That may not always be a good idea. Requesting the guidance of a landscaping company can do wonders for your home without leaving you with wilting plants and flowers, dead spots on the lawn, or unhealthy trees. Hiring a landscaping company guarantees life. It's definitely what your home needs if you notice a lack of color around your home.
Hardscaping – Structures That Make The Outdoors Cozy
Hardscapes are the "hard" areas of your property. They consist of structures in the outdoor living area that don't need constant maintenance. But they still need to be taken care of for the sake of security and safety. Your fences, patios, decks, driveways, walkways, stairs, and walls are all hardscapes and they can be designed in a variety of ways.
When you're looking at your hardscapes, pay attention to its condition. A concrete driveway with cracks, or a patio with loose, scratched up wooden boards isn't going to complement the look of your home. Instead, they give an impression that your property is not well taken care of. Even you won't feel inclined to go out there, so why would your visitors? In addition to affecting the safety of your property, hardscape structures can improve the functionality of your outdoor space and provide you with more opportunities to enjoy the outdoors, relax on a summer day, and host parties.
Most Madison Heights landscaping companies offer hardscaping services as well. This will give you the chance to invest in professionalism and make your outdoor living area cozier and more appealing.
Looking to upgrade your outdoor living space? Contact Sinacori, a Madison Heights landscaper today!
As you observe your home, contemplate what your outdoor living area truly needs, then take action. The sooner you do it, the sooner you'll enjoy the outside of your Michigan home. If you're looking for a professional Madison Heights landscaper in Macomb or Oakland County, contact Sinacori Landscaping today.