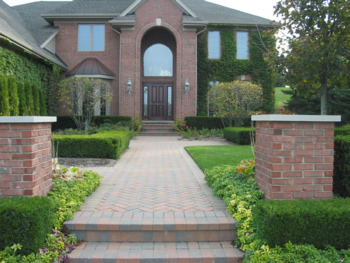 A well designed landscape transforms an ordinary, plain outdoor space into a fabulous oasis. It enhances your quality of life and opens a world of opportunities to enjoy it like never before. Modern landscape design usually combines the best of the home's interior with the relaxing qualities only nature can provide. There are certain ways you can harness the beauty of nature along with the architectural details of your home.
With the help from a landscaping design expert, you can create the outdoor space of your dreams. Here are some ideas to consider for upgrading the appearance of your landscaping:
Implement the Color Scheme Inside Your Home
A lovely landscape is one that is designed around a consistent color scheme and uses repetition to convey this theme. Use colorful flowers and grasses that compliment the overall appearance and theme of your home's interior. Have a landscaping company create flower beds that lay on varying levels and in multiple areas. Also, include potted plants and urns around the exterior of your home and entry ways.
Decorate Your Landscaping with Furniture and Accessories That Extend Your Indoor Living Rooms
Look for furnishings and decor accessories that extend the design of your indoor rooms. This will create a cohesive design that you will be very happy with for a long time. You can create living "rooms" much like the ones inside your home, complete with couches, chairs, and tables. You don't have to be limited to the rooms inside your home for relaxation and functionality, instead, you can extend your square footage by designing outdoor living areas.
Create Easy Accessibility From Inside Into The Functional Outdoor Spaces
Be sure to create easily accessible entrances to the most used components of your outdoor space. Functional spaces include patios, outdoor lounging areas and a fire place. If you make the travel to these outdoor areas easy and without frustration, you will be more likely to use them on a regular basis, making the most out of your property.
Design Your Landscaping Around a Consistent Theme That Compliments Your Taste Inside Your Home
Truly great design, whether outdoors or indoors, is one that is not comprised of mismatched decor pieces, colors and patterns, but one that weaves a consistent theme. Choose colors in the same tonal family, as well as accents and patterns that maintain the design of your kitchen, living rooms and bedrooms indoors. The other key to great design is sticking to the things that make you happy, not merely going with what is trendy at the moment.
Landscape Design Ideas for Your Michigan Home
You can become a renowned designer of your own backyard space by following the tips listed above. Remember, truly great design utilizes consistency without being boring, maintains the style and theme of the rest of your home, and adds functionality where there is impracticality. Decide upon a theme that weaves a story using your taste and lifestyle for your outdoor living spaces.
If you need help with landscape design for your Michigan home, contact Sinacori Landscaping today at: 248-651-5400.