Michigan Residential and Commercial Landscaping: 5 Tips to Increase Curb Appeal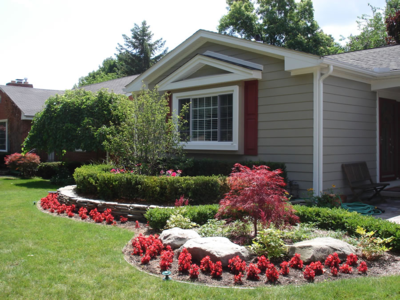 Increasing your curb appeal offers more benefits than just making your property look nice. From residential homes to commercial properties, curb appeal can make a big difference in the way people view your space, your family and your business. In a neighborhood, when you have a home that stands out and appears well taken care of, people will look up to you and will allow you to increase the value of your home.
For businesses, curb appeal can have a bigger impact than it does in residential areas. If a customer stops by your office and the outdoor portions of your property are not taken care of, it can give the customer a negative gut feeling when they walk through your front doors.
Whether you want to upgrade your home's curb appeal or your office building, landscaping can help you get there. Check out a few ways listed below to increase your curb appeal when contacting landscaping professionals:
1. Cater to the Season
Throughout the year, there's usually some seasonal event or festivity going on. You can decorate your property with seasonal flowers and nature's bounty, such as pumpkins and gourds for the fall, to create a front yard that resembles those among the pages of a magazine.
2. Keep Your Windows Clean
Dirty windows can give off an unclean vibe to anyone who looks on. While the landscaping team is focusing on tending to the outdoor elements in your yard, you can focus your efforts on cleaning the front-facing windows and the front door.
3. Keep Your Pathway Inviting
Your front door or entrance is where most friends, family and customers will go to and leave from. Make sure that it is not only inviting but up-lifting as well. This will help to lift the mood when they visit and will keep them thinking positively when they depart for the day.
4. Create & Maintain a Garden
If you don't have a garden, build one! Whether it's a small garden or an impressively large one, a garden can provide a lot of color and beauty to your property. Many people focus only on the necessary and practical parts of their landscaping; When you go the extra mile to create and maintain a lovely garden, you will have instantly increased the curb appeal of your home or business.
5. Cut the Grass
When you keep your lawn trimmed, your property's curb appeal will increase. A neatly kept yard is more appealing to look at than one that is overgrown. In some seasons the grass can grow extremely quick and it can be a chore to keep it at a manageable level. You can hire a landscaping professional to handle all of your grass cutting needs, allowing you to spend more time on the things you enjoy most.
Michigan Residential and Commercial Landscaping: 5 Tips to Increase Curb Appeal
Landscaping teams can be brought onto your property to handle your Michigan residential and commercial landscaping needs. Whatever task you need done, they can help you increase your curb appeal and make it more appealing to family, neighbors and customers alike.
For more information on landscaping for your home or business, call Sinacori Landscaping today at: 248-651-5400