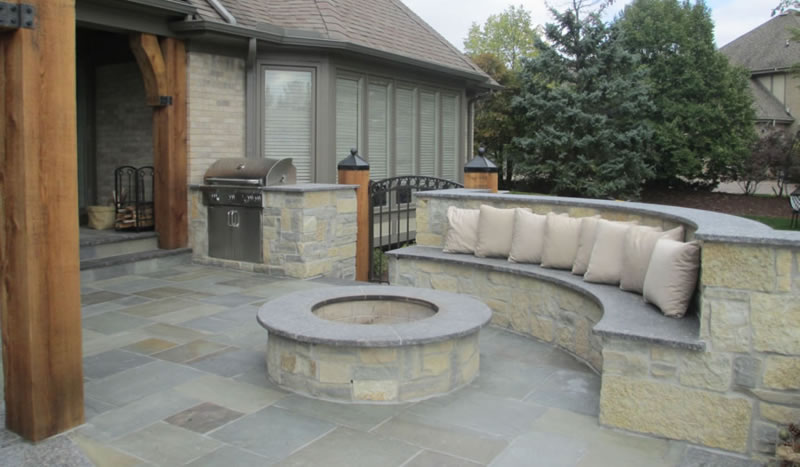 Michigan homeowners are often looking for innovative ways to create a design for the exterior of their home. Hiring an Orchard Lake landscaper can bring you fresh cut lawns, garden beds that are cared for, and beautiful flowers that enhance the beauty of your home. Even a nice hardscape renovation can really boost the look and value of your home. If you're not thinking of remodeling the driveway or your patio, what about having a fire pit installed?
If you notice your outdoor living area is spacious, but a bit too bland, a fire pit could definitely do the trick. Here are a few signs that will let you know that a fire pit would be a lovely fit for your home and how a professional landscaping company can make it happen.
1. You're Not Using Your Outdoor Spaces Often
Fire pits can encourage a household to enjoy the outdoors all year round. Those who don't have a fire pit often find spring and summer to be the only opportune times to take a breath of fresh air. Even then, the presence of technology and other forms of media entertainment can rob everyone of time outside.
There's something about fire pits that convinces others to enjoy each other's company in a cozy atmosphere. It reminds everyone that the outside world is spectacular. And having a warm place to appreciate it whenever you want is a luxury that not everyone has. If you feel your family needs more quality time together, perhaps making s'mores or telling stories around your fire pit can accomplish that.
2. Your Outdoor Living Area is Starting to Look Boring
Southeast Michigan isn't a boring area to live in, but some people may feel that way if their environment isn't as interactive or wondrous as they want it to be. A fire pit would be a nice addition to liven up that space.
If you're not sure if you have the room to have a fire pit installed, it would be best to talk to a Orchard Lake landscaping company. A professional landscaping company that also does hardscape work will be able to let you know if installing a fire pit is possible. They will also offer a variety of designs that help the fire pit merge with the beauty of your home while also showcasing itself as a new highlight.
3. You Need to Boost the Value of Your Home
In addition to all the benefits that come with having a place to spend time outside and with family, you'll also boost the property value of your home. If moving is in your future, look forward to this financial boost. You'll get the most out of your fire pit if you consult with your professional landscaping company who specializes in making every inch of your outdoor space appealing to the eye.
Contact an Orchard Lake Landscaper for Fire Pit Installation
Sinacori Landscaping offers both landscape and hardscape installations, such as fire pits.
If you are looking for a landscape company that services Orchard Lake, Sinacori Landscaping services all of Southeast Michigan. Contact us today at: 248-651-5400.